Information for Prospective Agents

W
IE maintains an international network of agencies who act as our representatives. WIE has a wonderful opportunity for organisations and individuals interested in becoming an active agent for our school.
This would involve: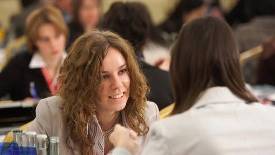 Promoting WIE to prospective international students

Advising potential students about their study options at WIE

Assisting potential students to submit an application form

Assisting student with all documents required to arrive into New Zealand, visa's, travel to New Zealand etc.
Our standard practice is to enter into an agreement with an Agent after they have successfully enrolled a student at WIE. If successful, we will honour a set commission rate for that student and enter into a formal partnership with the agent.

We expect our partners to deliver accurate and timely advice to prospective students and their families. In return, we support our Agents with the information and material needed to be successful.

If your organisation would like to become a part of our team, please find that first student and complete our
Agent application form.
In addition to this application form, please provide the following documents: