Hosting International Students in your home

If you are interested in becoming a hosting an International Student, please complete WIE's Homestay Family Application Form and our Homestay Coordinator will get in touch with you.

Minimum basic requirements for hosting students:

Students should be provided with:

Meals - 3 meals a day and snacks, including a packed lunch during the school week.

Laundry – washing and ironing.

Bedroom with a table or desk, chair, mirror, reading lamp, bed with linen and blankets or duvet, heating system, chest of drawers and/or wardrobe.

Chores:

Students should not be expected to do a lot of chores, but should be asked to tidy their room and participate in family chores such as setting the table and doing the dishes.

Transport:
Host families are responsible for showing students how to get to and from school. If the student is to take a bus or walk a short distance, a host parent should accompany the student on his/her first day. It may be necessary to accompany the student for the first few days or a week if the student is nervous about getting to school. Students under 18 should not be expected to walk to WIE alone and should not be allowed to a bicycle unless they are very competent.

Toiletries:
Students are asked to provide their own soap, toothpaste, shampoo, and personal toiletries. Please show them how they can buy more, for when they run out.

Heating:
Adequate heating must be provided.
Communication: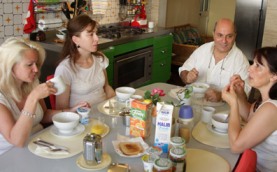 Students must have access to communication channels so that they can keep in touch with their families. It is not unusual for a student to want to call his/her family a day or two after arriving so please show them how to use the telephone, but explain that phone bills must be paid by the student. It is desirable that email/Skype access is also provided.
On Arrival:
WIE organises a shuttle to meet the student at the airport and bring him/her to your home, or to the school, depending on the time of day.It is very welcoming if homestay families can also go to the airport.
Student Care:
Host families are responsible for your student during the school term, including school holidays.
Students aged under 18 require extra care and supervision, so it is your responsibility to know where your student is and how he/she can be contacted, at all times. A mobile phone number is not adequate as an only means of contact, you should also have a physical address of the student's whereabouts. Students aged under 18 must not be left alone in the house for any reason. If this is inconvenient because of an emergency please contact WIE. Sudents aged under 18 are not allowed to stay at a friend's place overnight without WIE's approval.
When your student goes out, please ensure that he/she is carrying telephone numbers and addresses of both the school and the host family. Students should also have a phone calling card to use in public phone boxes.
Host families may need to be mindful of the developmental needs of older children.
Homework: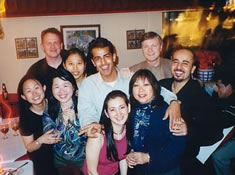 Students are regularly given homework by their teachers and are expected to do some each day. Older students are usually more motivated to study but host families may need to encourage and help younger students with their homework.
Student Behaviour:
Host families should expect the same standard of behaviour as would be expected from their own children of a similar age, but make allowances for cultural differences.
Illness:
In the case of serious illness or accident/emergency follow the emergency and accident procedures listed in the Accident and Emergency Procedures form, provided by WIE.
Safety:
It is the host family's responsibility to care for the student in a way that ensures they are kept safe from harm and their emotional well-being is nurtured.
Contact with your student's parents:
It's a good idea to make contact with your student's parents. A letter/email introducing yourself and family members and some regular contact about the student throughout the year will be greatly appreciated by the parents.
Changing Homestays:
Students must give at least two weeks notice or two weeks board in lieu of notice, if they want to move out. Students may never change homestays without the knowledge of the school. If a student is to be moved, the host family will be advised of the reason why.
Language:
Your student will probably be unfamiliar with New Zealand accents (even if he/she has good English) and colloquial expressions and may take time to adjust. Host families should attempt to learn some basic greetings in the student's language. Learning a few phrases of your student's language helps to show respect for their culture and may help them feel more welcome and cared for.
To apply to be a Host Family for WIE, please download and fill out Homestay Family Application Form. Our Homestay Coordinator will process your application and is available to assist both students and host families throughout the hosting period.
More information for homestay family: Information for Homestay