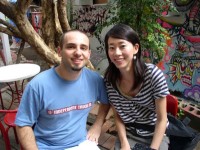 People from overseas who have a New Zealand Working Holiday Visa come across many difficulties such as getting a work visa, language barriers or even knowing how to find the right job.

The advantages are is that it is easier to find a job while you are in New Zealand and the better your English is, the easier it is to find work!

WIE's General English course is ideally suited for this purpose. It allows you to improve your English while gaining practical knowledge of how to find a job and relevant information on working in New Zealand.
Our flexible hours give you the time to work while you study, or look for work and attend job interviews. We can provide job information to help you find seasonal work, however, we cannot guarantee a job as we are not an employment agency.


Special Promotion for Working Holiday Visa Holders

WIE has a special offer for students holding a Working Holiday visa.

Programme: Working Holiday English Programme
Course length: 10 weeks or more
Classes: 9am - 3pm, Monday to Thursday, (20 hours per week)
Tuition Fee: $2500* (Save over 20%!)
*Other fees including application and resource fees apply.

For more information see our flyer in your language:

Ready to book? Apply online now!