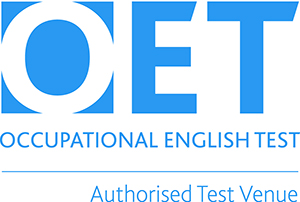 Registration is open for the Occupational English Test (OET) at Waikato Institute of Education. To register, or for more information visit occupationalenglishtest.org

The Occupational English Test (OET) for overseas health professionals assesses the English language skills of all health professionals wishing to study in, migrate to and work in Australia and New Zealand.
For more information on the test please see What is the OET?
Waikato Institute of Education is Authorised Examination Centre for Cambridge The Occupational English Test (OET), To help candidates prepare for the test, WIE offers OET Preparation Courses. Courses are designed for students who:
Wish to sit the OET as part of the process of becoming registered to practice in New Zealand

Wish to return to their home country with a stronger ability in medical related English

Wish to go on to further study in a medical field at University or Polytechnic in New Zealand
Our OET preparation Courses
combines intensive English instruction with content and situational lessons from healthcare fields with specific practice on OET tasks in all skill areas. Emphasis is on developing proficiency level English with special emphasis on pronunciation, and fluency and accuracy of spoken and written communication.


Students learn to write referral letters, and develop an understanding of appropriate functional language to manage taking patient histories.
Courses are available full-time (25 hrs), part-time afternoon (11hrs) and part-time Fridays (5 hrs).



OET Preparation Course Outline

Accelerated OET Preparation Course

The accelerated OET Preparation Course is designed for students who are about to take the OET and would like some last minute preparation. It is ideal for those who have taken the OET before but not reached their goal in all subtests. We have broken the course into four, three hour sessions, each of which will focus on one area of the OET: Listening, Writing, Reading, or Speaking. Students can choose which sessions they would like to enroll in based on the areas they feel they need help in. Listening will be on Monday, writing on Tuesday, .reading on Wednesday, and speaking on Thursday in the week before the OET Test. This course is great for those who are already working outside of Hamilton and can only get a short amount of time off. For more information, please refer:

Accelerated OET Preparation Course