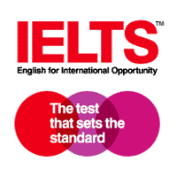 WIE's Computer-based IELTS Preparation course is the most comprehensive test preparation programme on the market, instructing students in all four language skills - Listening, Speaking, Reading and Writing, with over 800 hours of online learning.
WIE's Computer-based IELTS Preparation course is based on Vital English's IELTS preparation Course. Vital English designs and distributes English Language teaching and learning solutions globally. Vital English now have one of the largest product ranges of any online ELT provider in the market. Since its conception Vital English has enjoyed the privilege of working with many leaders in both the ELT and technology markets. This enables Vital English to design, build and deliver learning materials that are incomparable on the world stage.Vital English have drawn upon the academic expertise of internationally recognised ELT consultants. Professor Rod Ellis from the University of Auckland and Professor Zhang Lianzhong from China.

Course Materials
The course materials are multimedia and interactive, and cover the four skills - reading, writing, listening and speaking - as well as theory, spelling, grammar and vocabulary. Language learning through our courseware moves from vocabulary and task-based approach to one more clearly focused on accuracy and complexity.
IELTS Speaking
At the end of this module, students are expected to be able to:
use interaction skills in an interview situation.
use appropriate para-linguistic skills such as body language and eye contact.
produce cohesive, coherent and grammatically correct speech.
use appropriate vocabulary, pronunciation, intonation and word and sentence stress.