Private lessons are designed for people with irregular work hours or those who prefer to receive individual attention, rather than a class environment.
It will give you the chance to make rapid progress and to concentrate on particular areas of your choice, such as specialised vocabulary, grammar, pronunciation etc. Following a needs analysis, a course is specifically designed to suit the particular requirements of the student.
Private lessons can also be combined with our other full-time and part-time courses.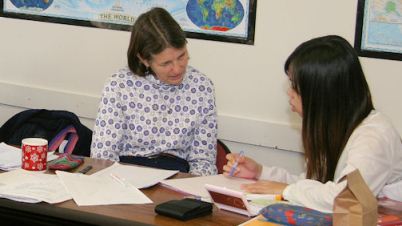 Lessons are with a qualified tutor, who will discuss your learning goals with you to create a customised curriculum. You will have the opportunity to concentrate on your own areas of priority, at your own pace, with no audience. This option allows you to cover the most ground in the shortest time-frame..
Sessions can be arranged anytime during the week. Evening and weekend classes are also available upon request.
Can't attend evening classes because of work commitments?
With private lessons, you can design a timetable that fits around your work hours. Many employers consider our One-to-One tuition as "Professional Development" and may help finance the course.
Contact us to discuss your specific needs. Our academic team will be happy to put together a program that fits your goals and schedule.
Available tuition includes:

General English
Cambridge Exam Preparation
IELTS Preparation
OET Preparation
TOEFL Preparation
TOEIC Preparation
Business English
Accent correction and pronunciation
Conversational English
High School language support
Other language tuition
and more... just ask us!