Overseas High School students intending to study at New Zealand High Schools would need a good level of English. Direct enrolment into New Zealand High School is possible but it is recommended that students improve their English and learn about New Zealand before attempting to study at the High Schools. By enrolling on Waikato Institute of Education's High School Preparation programme, students can improve their English and learn about New Zealand school culture, study systems or methods, exams and further tertiary education available in New Zealand. After completing Waikato Institute of Education's programme, students will be better prepared to study in Fairfield College

Free Service for Enrol Fairfield College
Students who enroll in our High School Preparation programme can enter Fairfield College. We Provide free service to help student enrol Fairfield College after they finish High School Preparation Course.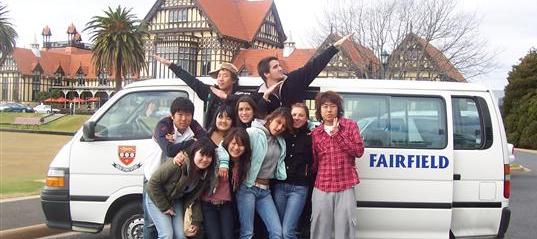 Fairfield College is set in 20 hectares of attractive grounds in the North Eastern sector of Hamilton approximately 5 kilometres from the city centre. We have excellent facilities including extensive sports fields, tennis and basketball courts, two gymnasiums, weight room and swimming pool. Computers are widely available and we have a modern information centre with Internet linked computers for research.


Fairfield College
Offer:
Fairfield College

have a history of welcoming students from many cultures and are well prepared to meet students differing needs.

Fairfield College

senior students do very well in their NCEA and scholarship examinations and we provide a wide range of courses to help students gain qualifications.

Fairfield College

students are not required to wear school uniform and they are encouraged to be confident self disciplined individuals.

Fairfield College

provide ESOL courses for those needing them and there are a variety of English, Mathematics and Science courses to suit the level students are comfortable with.

Career guidance and higher education options at University and Polytechnics are available from our Careers Advisors.

Educational experiences outside the classroom are often the highlights of a lifetime and we provide opportunities for students to take part in field trips, camps and other recreational activities.

A registered nurse and doctor provide emergency services for accidents, injuries or illness and help with ongoing health advice.

Fairfield College

Homestay Co-ordinator helps provide students with regularly monitored homestay accommodation and advice and support throughout the year
General areas of study: We attempt to find the best course possible for each individual student.
Year 9: Compulsory English, Mathematics, Social Studies, Science, Physical Education. Special studies (4 hrs per wk for 1 term); Art, Music, Text Management, Health, Graphics, Technology Wood / Metal / Fabric / Food, Maori or Spanish.
Year 10: Compulsory subjects as for Year 9, 2 optional subjects from the Year 9 special studies list or the following for 3 hrs per wk; Drama, Business Studies.
Year 11 - 13: A wide range of National Certificate in Educational Achievement and Scholarship subjects and a variety of course options for students requiring a less academic programme.

Fee examples: All courses: NZ$10,500 per year (4 terms)
NZ$5,250 per half year
NZ$2,625 per term
Personal Express Transfer from Auckland to Hamilton if necessary NZ$150
No uniform charges except sports uniforms (estimate) NZ$50
Administration and Enrolment Fee $500 (one payment on enrolment)
Homestay (46 weeks) NZ$196 per week (total cost for 46 weeks NZ$9016)
Stationery (estimate) NZ$60
Field Trips/Sports Trips (estimate) NZ$100
Medical and Travel Insurance is compulsory and can be obtained through the school. Spending money is the student and their family's responsibility.

Care support for international students: Student welfare and safety is of utmost importance to staff at Fairfield College. Orientation classes are compulsory for all new International students to help adjust to a new culture.

Accommodation options: Fairfield College offers regularly monitored homestay accommodation and host families that have been interviewed and police vetted (as per the Code of Practice for the Pastoral Care of International Students).
New Zealand homes are usually stand alone, with a garden and are usually within a 10km radius of the school. Students walk, bike, take a bus or are dropped at school by their host parents. A Fairfield College homestay provides a warm, comfortable room with bedding provided, study facilities, laundry service, 3 meals per day and in a family environment appropriate to the students age and needs. The normal length of a year's homestay is 46 weeks at a total cost of NZ$9016.