Overseas High School students intending to study at New Zealand High Schools would need a good level of English. Direct enrolment into New Zealand High School is possible but it is recommended that students improve their English and learn about New Zealand before attempting to study at the High Schools. By enrolling on Waikato Institute of Education's High School Preparation programme, students can improve their English and learn about New Zealand school culture, study systems or methods, exams and further tertiary education available in New Zealand. After completing Waikato Institute of Education's programme, students will be better prepared to study in
Cambridge High School
Free Service for Enrol Cambridge High School


Students who enrol in our High School Preparation programme can enter Cambridge High School. We Provide free service to help student enrol Cambridge High School after they finish High School Preparation Course.
Cambridge High School
Have hosted international students since 1989

Is ranked as the top academic public high school in the Waikato Region for NCEA results for the last two years

Has four support staff assisting in the care of International Students

Have International Ambassadors from the major countries, to assist with new students and visitors to Cambridge High School

Have excellent communication and support for our students and their families

Have a limit of no more than 15 students from any one country

Have four trips organised for students each year, and provide regular newsletters, reporting and feedback to parents and agents

Have a modern campus with on-going re-developments occurring at school. In 2010, a new technology block is being built on the school grounds. In 2009 a brand new gymnasium was completed. In 2008, a brand new library was completed

No application fee for students

Cambridge High School is one of only a few schools in NZ to offer City and Guilds examinations from London. These are INTERNATIONALLY RECOGNISED qualifications that are on offer two times every year at Cambridge High School

All student enrolled at Cambridge High School are able to learn English on our e-learning site. Each student pays $25.00 for e-learning access. The levels of English available for study range form Beginner to IELTS level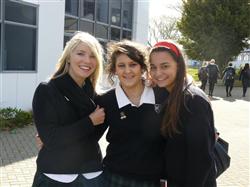 Cambridge High School is sited on 8.5 hectares of attractively planted, spacious
grounds close to town, in semi rural surroundings. Cambridge offers a mild climate, a safe
beautiful environment, and yet is only 15 minutes by car from Hamilton City, home of The Waikato
University, Waikato Institute of Technology (WINTEC) and Waikato Institute of Education, and 1.5 hours by car from Auckland
International Airport. Academic students from Cambridge High School have established a highly successful record at Waikato University and other New Zealand tertiary institutions.
Cambridge High School was
Established in 1883 with a long tradition of academic excellence
and has a
long, proud tradition of academic

excellence,
providing the highest quality of education for its 1,200 students.
.

Values of co-operation, self-

discipline, respect and integrity are emphasised in a traditional

code of conduct, with modern teaching methods and faculties. School uniform is compulsory for

all students and Cambridge High

School has been described as a 'model school'. The school also

prides itself in offering a balance of academic sporting and cultural

opportunities. We have welcomed

international students since 1989 and

value their presence in our school.
The course of study at Cambridge High School is based around the National Certificate of Educational Achievement (NCEA). The NCEA is a mixture of internal assessment and external examinations. To gain entry to university in New Zealand, students must achieve at least 42 credits at Level 3 in NCEA. At least 14 credits must be from each of two subjects from an approved list, with another 14 credits from no more than two other domains. Students must have 14 or more credits at Level 1 or higher in Mathematics, and at least 8 credits at Level 2 or higher which show reading and writing skills in English.

Full details on entrance requirements can be found on the NZQA website (see Helpful Links). Full details of courses available at Cambridge High School can be found on the school website.